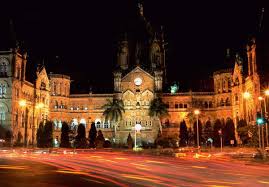 Designed by F.W. Stevens, a consulting architect, the construction of Great Indian Peninsula Railway Offices building started in May 1878 and completed in 1888.  o­n Queen's Jubilee Day in 1887, the building was named as Victoria Terminus. Later in 1996 it was renamed as Chhatrapati Shivaji Terminus.  In 2004, UNESCO has enlisted as World Heritage Site for its architectural splendour. From December 2012, CST building was opened for public viewing o­n working days.
During Centenary celebrations of Chhatrapati Shivaji Terminus Building, a postal stamp was released.  In 2013, when the building celebrated quascicentennial (125 years) anniversary, a special postal cover was released o­n the occasion. This building has been selected as 10 iconic places in India for its tourist potential in 2016.
Chhatrapati Shivaji Terminus (earlier Victoria Terminus) was constructed at a cost of Rs.16.13 lakh and is designed in Gothic style adapted to suit Indian context.  It is a C shaped building planned symmetrically about the east west axis.  The crowning point of this building is the central dome with a colossal 16 feet 6 inchs high Statue symbolising Progress. It is reported to be the first octogonal ribbed masanry dome adapted to this gothic style building.
The station was constructed with 6 platforms at a cost of Rs.10.4 lakh and in 1929, the first remodelling took place to have 13 platforms. Further modifications were done to the yard and the station had two more platforms thus making it 15 platforms in 1994. Today it has 18 platforms with a spacious east side entry as well.