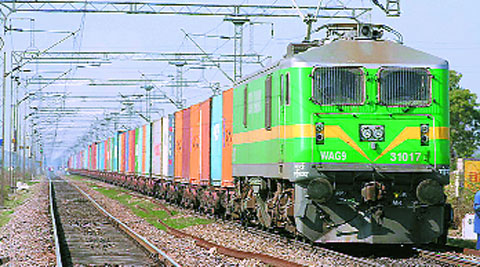 The railways is India's single largest transportation entity, both in the freight and passenger segments. Given the current global emphasis on the environment, it is imperative that a larger share of traffic move by rail. The railways' modal share of freight traffic is probably 30 per cent, taking into account road, pipeline and coastal transportation. It is important to increase this to 40 or even 50 per cent.
The Indian Railways (IR) has traditionally suffered on account of poor capacity and customer service, not necessarily in that order. There are many segments where increasing capacity will bring in more traffic. These segments include port connectivity, parts of the Golden Quadrilateral, and key routes in the iron ore-coal belt. And the gaps in customer service have been significant, driving traffic into other modes.
The IR needs to work on multiple strategies, examine opportunities that increase revenues, decrease costs and increase investments that give value for money, and provide better governance. Keeping this in mind, there are a few measures that the IR should consider implementing.
First, the standardisation of passenger train rakes is in order. Passenger train rakes achieve an average utilisation of around 600 km per day. There is an opportunity to increase this by at least 50 per cent. The bulk of trains achieve an average speed of 45 km per hour. The challenge is to utilise them for about 20 hours a day. This can be achieved by standardising passenger train rake compositions, which will increase flexibility for use across trains.
Second, investments to streamline and avoid cross-traffic movements are called for. The reliability and average speed of trains can be raised by streamlining and avoiding cross-traffic movements. But, for this, a realignment of stations is necessary, along with building bypasses at stations where trains go through reversals. These investments are low-hanging fruit.
Third, investments to automate the top 50 loading/ unloading points must be made. Modernising and automating terminals would not only provide better customer satisfaction, but would also improve asset utilisation by reducing terminal detentions.
Fourth, beyond automating terminals, there is a significant opportunity to introduce value-added services by reimagining them as logistics parks. Enabling smooth trans-shipment to other modes of transport, warehousing, security and insurance are services that customers expect and which can be facilitated by the IR. The Logistics Corporation of India could play a role in this.
Fifth, the IR should move away from general-purpose to commodity-customised wagons. The value from streamlined supply chains is often greater than the benefits lost by replacing multicommodity wagons. Efforts in this direction are already under way — special purpose wagons for automobiles, steel products, foodgrains etc are being developed.
Sixth, the use of high-end technologies like automatic train control and cab signalling, the norm in most developed countries, needs to be propagated and stabilised quickly. While the IR has improved its safety record
SOURCE - indian express