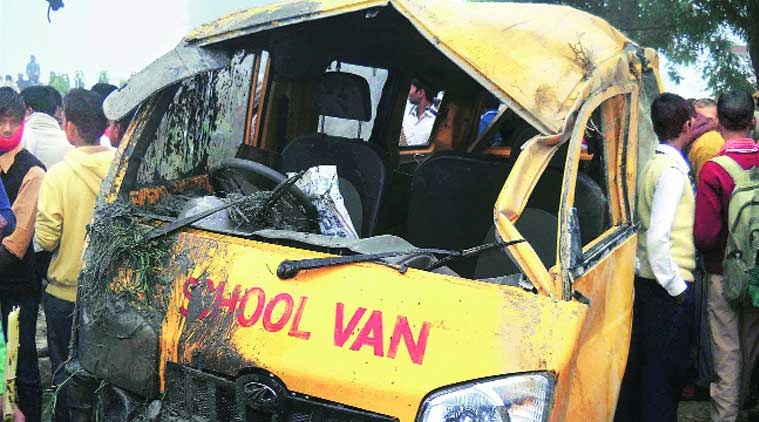 The school van after it was hit by a train at an unmanned crossing in Mau, Thursday. Five students were killed and eight others injured in the mishap. (Source: Express Photo)
Written by Avishek G Dastidar | New Delhi | Posted: December 5, 2014 10:56 am
The zonal railway appeared to have been sitting on a file that would have approved the appointment of around 50 "Gate Counsellors" at unmanned level-crossings in and around the Varanasi Division — including the one where five children lost their lives Thursday morning — and could have prevented the accident, facts assessed by the Railway ministry has found.
Following a similar accident near Hyderabad in July this year, when 25 children were killed after their school bus rammed a moving train, the Railway Board had on August 11 issued "urgent instructions" that such vulnerable crossings near schools be identified across India and manned through Gate Counsellors on priority. On October 29, the ministry had even reminded all zones that non-implementation of the instructions were causing such accidents.
The "Gate Counsellor" scheme engages three casual labours (preferably ex-servicemen) on eight-hour shifts each to prevent vehicles from entering a train's path.
Four months on, the zonal railway was still "evaluating the tender" to appoint the Gate Counsellors as per laid down criteria, according to a senior Railway Board official. "We had all the available technologies in place to caution road users. The proposal to appoint Gate Counsellors is in the pipeline," a North Eastern Railway spokesman told The Indian Express. Local reports, though, pointed out that the train driver had whistled repeatedly in poor visibility condition to avoid such a mishap.
On October 29, Railway Board had once again issued instructions to all zonal railways saying "repeater whistle boards" be installed at level crossings and Gate Counsellors be deployed to prevent recurring accidents. "It seems that due to non-implementation of these instructions, unmanned level-crossing accidents have continued to occur," says the letter from the Railway Board to zonal railways.
The instructions were issued to all railways after Devi Prasad Pande, Member Traffic, Railway Board, issued a stern message to North Western Railway in October reminding it that level-crossing accidents were occurring unabated. After assessing the trend across the country, the Railway Board then issued the same instructions to all railways. But that, it turned out on Thursday, did nothing to move things in the Varanasi division of the North Eastern Railway. The number of deaths at unmanned level crossings this year stood at 94. Currently, there are 30,348 level crossings in the country of which 18,785 are manned and 11,563 unmanned. Unmanned crossings are responsible for the maximum number of train accidents, around 40 per cent.
Before going to the accident site, Railway Minister Suresh Prabhu told Parliament in the morning that his ministry would pay Rs 2 lakh each to the next of kin of
Source-indian express