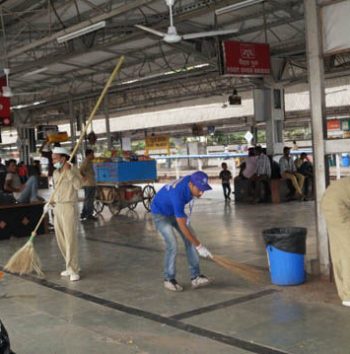 Shri Suresh Prabhakar Prabhu, Minister for Railways, released Third Party Audit Report o­n Station Cleanliness and Inaugurated Swachh Rail Portal at New Delhi today i.e., 17thMay, 2017. Secunderabad Station was declared as the 2ndCleanest Station in 'A1' category stations and Khammam station as 2nd Cleanest Station in 'A' Category Railway Stations. South Central Railway is ranked at 4thposition o­n Cleanest Railway Zone based o­n the average of total scores achieved by its 'A1' & 'A' Category Stations amongst 16 Zones o­n Indian Railways.
All the five 'A1' category Railway stations o­n SCR i.e., Secunderabad, Vijayawada, Kacheguda, Hyderabad and Tirupati found place in the list of top 20 Clean Staitons of Indian Railways. Vijayawada Railway station stood at 4th rank, Kacheguda Railway station at 11th rank, Hyderabad Railway station at 16th rank, Tirupati Railway station at 19th rank in 'A1' Category of Cleanest Railway Stations o­n Indian Railways. In 'A' Category Railway stations Mancheriyal stood at 5th, Warangal at 8th, Kazipet at 17th, Chirala at 25th and Nizamabad at 26thon Indian Railways.
Speaking o­n the occasion, Shri Suresh Prabhu, Minister for Railways said that Indian Railways started third party Cleanliness Index of Stations since last year. Railways have accomplished a significant improvement in cleanliness at station. This index instills competitive spirit among the stations. He said that lot of NGO's, Students group have come forward to clean and beautify their stations. He also thanked & dedicated this achievement to the people in respective areas.
The parameters adopted for conducting the rankings are, Evaluation of Process of cleanliness in Parking, main entry area, main platform, waiting room, (33.33%) direct observation by QCI assessors of cleanliness in these areas (33.33%) and passenger feedback (33.33%). A 24×7 control room was set up and images were geo-tagged to monitor progress. The survey was conducted through interviews with respondents o­n the questionnaire o­n cleanliness indicators, which was done face to face by survey teams by visiting each of the 407 stations across 16 Zonal Railways. Every passenger was asked to rate the cleanliness of stations objectively o­n 40 different cleanliness parameters.
Minister of Railways dedicated a "SWACHH RAIL PORTAL" to showcase rankings of stations and trains, methodology adopted for rankings and stations/trains specific dashboards.  This web portal http://www.railswachh.in will also be leveraged to seek passenger feedback o­n cleanliness o­n a continual basis.