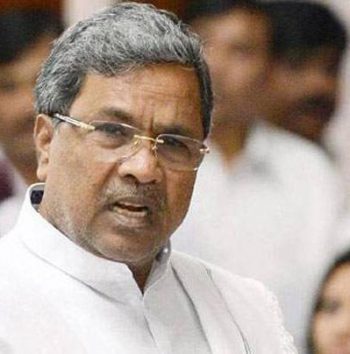 A decade-long campaign by Bengaluru's citizens for the Suburban Railway system may finally bear fruit. Supporting the demand, Chief Minister Siddaramaiah on Thursday urged the Union Railway Minister to lay the foundation stone for the project by May.
"I'm with the people who are demanding a suburban train. The Centre must consider the demand to complete the work at the earliest," he said.
The CM reminded Railway Minister Suresh Prabhu that his government had set aside Rs 345 crore for the project in its budget for 2017-18 and is ready to spare land too, which is estimated to cost over Rs 10,000 crore.In January, Prabhu and Siddaramaiah signed a memorandum of understanding (MoU) for the development of the suburban railway system in Bengaluru. This MoU proposed Rs 360 crore to replace 15 conventional trains into electric ones. Each of these electric trains will have a carrying capacity of 2,500 passengers and one train will cost Rs 20 crore. While Rs 25 crore is earmarked for the maintenance facility of MEMU services at Banaswadi, Rs 4 crore will be spent on installing automatic signalling towards efficient movement of trains.
Besides this, there has been no active participation from the South-Western Railways regarding the implementation of a full-fledged suburban train system in the city, but the state government has been proactive in its stand.
"The Urban Development Department of the state has already paid 80 per cent of the amount for the Rs 360-crore project to the Department of Urban Land Transport (DULT). Tenders will be floated to procure the rakes. It will take around six-seven months to get the rakes commissioned, but the operation and maintenance will be done by the South-Western Railways," said a senior official with the DULT.
Meanwhile, a request has also been made to the Railways to start a special train connecting Baiyappanahalli and Whitefield taking into consideration that metro work is soon to begin on the stretch. The request was forwarded by the citizen group Whitefield Rising and the Railways has accepted and forwarded it to the Ministry for consideration, but there is no response from the Ministry so far.
Sanjeev V Dyamannavar from Praja RAAG, an advocacy group that has been pushing for suburban rail, said, "It is good to see that finally the Chief Minister is actively advocating for the suburban railways and also responding well to the demands of the citizen by earmarking funds for it in the 2017-18 budget. But the dream will be realised only once the railways pitch in their contribution and come clear on the funding process, which is currently the bone of contention between the state and the Centre."
TUG-OF-WAR OVER FUNDS
* The policy on India Railways Suburban Rail system is a bone of contention between the state government and the Centre. Sanjeev V Dyamannavar said, "The crucial bottleneck to the project is yet to be resolved. The draft policy suggests that the Centre and state pay 20% each and the rest be loans with the state as the guarantor. The Siddaramaiah government, however, has suggested that the funding pattern be 50:50. The two stakeholders are yet to resolve this issue."
* Sathya Sankaran an activist demanding the suburban railway system said, "The railways need to come clear on the issue. Every time the topic of suburban railways is raised, the Railways shift the onus on the formation of a special purpose vehicle. If the SPV is formed, it will be according to the draft policy, though the Karnataka Government has raised objections to it. The policy in itself is unfair because huge investment has been made by Railways in cities such as Mumbai and Chennai then why this step-motherly treatment towards Bengaluru?"