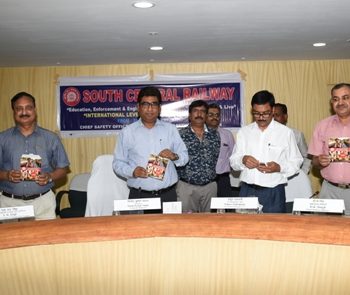 Shri Vinod Kumar Yadav, General Manager, South Central Railway conducted a Safety Review Meeting today i.e., 29thMay, 2017 at Rail Nilayam, Secunderabad along with Principle Heads of Departments. Divisional Railway Manager's (DRM) of all six Divisions i.e. Secunderabad, Hyderabad, Vijayawada, Guntakal, Guntur and Nanded were also participated through video conference.
General Manager reviewed the safety aspects of the Zone including derailments occurring in yards, Loco derailments andunsafe working like gate open cases etc. He instructed the officials to take corrective action to avoid such instances in future and advised the officials to avoid short cut methods to enhance safety.
Shri Vinod Kumar Yadav discussing o­n the Punctuality, instructed all the Divisional Railway Managers to make an action plans to improve the Punctuality and avoid unsafe working which effects the punctuality and safety. He also advised them to identify the root causes for asset failures and take corrective action and bring out System Improvements.
Earlier, Shri Vinod Kumar Yadav, General Manager released a "Short Film" o­n awareness of Safety in view of "International Level Crossing Awareness Week" which will be observed from 29thMay to 2ndJune, 2017.Later, the General Manager presented the Man of the Month awards to the staff for rendering commendable services.
Shri S.N. Singh, Addl.General Manger and Principal Chief Engineer, Shri D.K. Singh, Chief Safety Officer, Shri N. Madhusudana Rao, Chief Operations Manager; Smt. Padmini Radhakrishnan, FA & CAO; Shri R.C.Boolchandani, Chief Administrative Officer (Construction); Shri M.S. Mahaboob Ali, Chief Signal & Telecommunications Engineer; Shri M.G.Sekharam, Chief Commercial Manager; Shri John Thomos, Chief Electrical Engineer; Shri N.V.Ramana Reddy, Chief Personnel Officer were amongst the officials present.
This entry was posted in Railway Employee, Railway Employee