Apr 21, 2015
The followingh L.P pass P.B 9300-34800+4200 who have been placed on the provisional select list of loco pilot mail P.B 9300-34800+4200 vide this office letter of even no. dt. 26.11.14 and promoted at the station mentioned against their name
Apr 20, 2015
In a major initiative, the Bibek Debroy committee has proposed to invite private players to compete with theIndian Railways by running sleek, brand-new coaches replete with high-tech gadgetry zipping through the countryside at 200 kmph or above, providing a new level of experience to the discerning railway users.
The committee has extensively documented the experience of European nations where a large number of such private operators have set up shop and have changed the way people commute by train.
The committee, in its 323-page report, has cited the example of opening up of the civil aviation and telecom sectors which has given millions of Indians freedom to choose from varied service providers and has also made significant advances in standards of service in these sectors.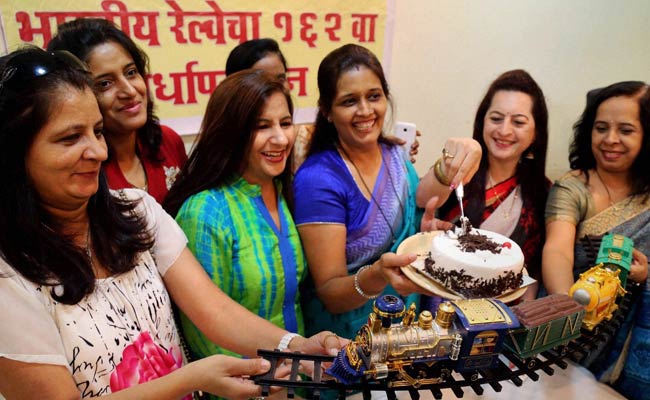 Women commuters cut a huge cake modeled on the Thane railway station on the occasion of its 162nd anniversary on Thursday. (Press Trust of India)
NEW DELHI: Indian Railways, the lifeline of the country and perhaps its most preferred mode of transport, today completed 162 years in the service of the nation.
It was on this day in 1853, that the country's first passenger train operated between Bombay and Thane, marking the birth of the railways.
Built by the Great Indian Peninsula Railway (GIPR), the train was drawn by three engines named - Sahib, Sindh and Sultan - and covered the distance of 21 miles in 57 minutes.
The Ministry of Railways marked the occasion today on social media by sharing old, historic and nostalgic photographs, saying - "162 years of Indian Railways!"
The photographs include one of the rare picture of a viaduct between Bomabay and Thane taken during the 1850s, a gate man standing at a level-crossing watching a steam engine puff out in front of him, a Bombay Baroda and Central India (BB & CI) railways train and a coloured image of a stationed freight express hauled by a diesel locomotive hauling at Nangloi.
The other posts shared more recent achievements of the railways, one of the largest networks in the world and one of the biggest employers.
Operated during the colonial time by private-run companies, the firms were amalgamated after Independence into one nationalised entity, Indian Railways
Source - ndtv
Dehradun: The Indian Railways is soon to set up plants to manufacture bio-diesel for mechanical traction with technology patented by scientists at the CSIR-Indian Institute of Petroleum (CSIR-IIP), Union Minister Harsh Vardhan on Friday said.
Indian Railways
Announcing this, Vardhan, who is also the Vice President, CSIR, laid out the roadmap for further exploitation of opportunities in alternative fuel sources.
"We are the first to have the capability to convert one tonne of broken buckets, mugs, toothpaste tubes, bottle caps and other Polyolefin products into 850 litres of the cleanest grade of diesel. This is the best news yet for the planet this year because henceforth plastic waste will be viewed more as a resource than a nuisance," said a government statement, quoting Vardhan.
"I have myself campaigned on the streets of Delhi against pollution and plastic proliferation. Today, I am glad to announce that diesel conforming to Euro-5 specifications in sulphur content has become a reality thanks to the CSIR-IIP and GAIL's diligence and ingenuity," the Minister of Science and Technology said.
Another feather in CSIR-IIP's cap is the successful project to produce low-carbon jet fuel from inedible, drought-resistant Jatropha plant.
"We have gone several steps ahead in developing alternative sources of jet fuel. Jatropha apart, CSIR-IIP has the knowledge to make jet fuel out of any non-edible oil –even the waste cooking oil from our kitchens is soon to become prized material in the market," the Minister said.
Source - jagran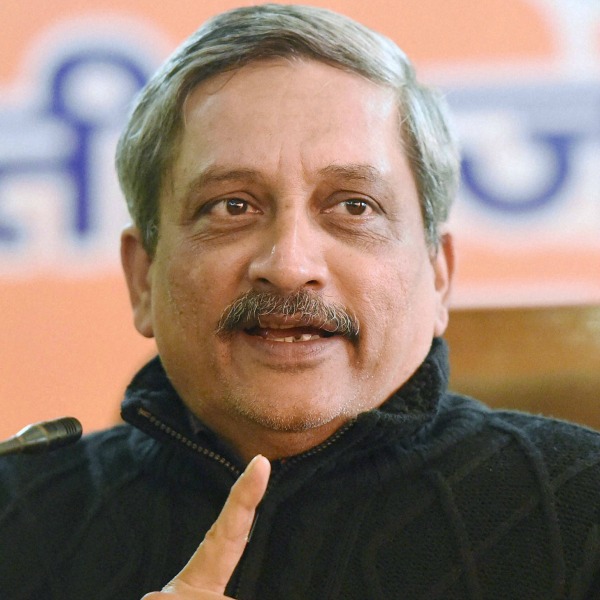 "Indian Railways will soon set up a station in Arunachal Pradesh near the India-China border," Parrikar told the media.
Union Defence Minister Manohar Parrikar on Saturday said that the Indian Railways will soon set up a station in Arunachal Pradesh near the India-China border.
"Indian Railways will soon set up a station in Arunachal Pradesh near the India-China border," Parrikar told the media.
"A draft of the MoU (Memorandum of Understanding) is ready and will be signed soon," he added.
Parrikar further added that he has spoken in detail about the project to Union Railway Minister Suresh Prabhu.
Source - DNA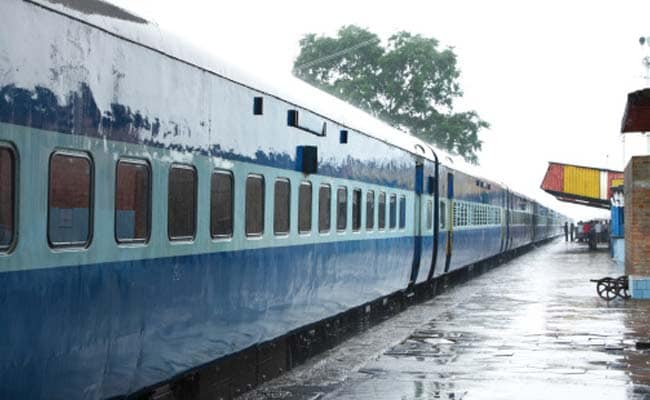 Representational Image
NEW DELHI: Indian Railways is planning to build satellite terminals near some of the busiest junctions, aiming at reducing pressure on such stations.
"We are planning to develop some satellite terminals. Most of the urban areas are saturated now. It is impossible to reach to the station in busy areas. We can have satellite terminals outside busy railway stations," Railway Minister Suresh Prabhu said at a conference on US-India cooperation on smart transportation.
There are about 8,000 stations across the country out of which some of the most busiest stations like New Delhi, Delhi Junction, Howrah, Chhatrapati Shivaji, Lucknow, Chennai are
quite saturated now.
History took a new track around 162 years back when a 14 carriage long train traveled from Bombay to Thane on April 16, 1853 marking the maiden run for Railways on Indian Soil among loud cheers. And what has continued is there for all to see- years of legacy, decades of exceptional service and scores of happy passengers like me who cannot get enough of Indian Railways.
Since from my first ever train ride between Mangalore to Sakleshpur on the Konkan coast in early 90's to the much improved travels on super-fast Shatabdis today, my love for the railways in India has only multiplied manifold. The window of an Indian Rail is indeed a window that depicts the many aspects of life and terrain in India. The dried up riverbeds, sun kissed paddy fields, the 7x8 huts in slums, sleepish small towns, and playful kids of the countryside are all a common sight when you transverse through the length and breadth of the country on any long train journey. Those sultry summer journeys on Indian trains relishing IRTC meals and tomato soup are probably fond memories of every Indian child.
I have my memories too, those that I can cherish forever. Be it travelling with my family on LTC's or with friends for Sports Nationals, be it for work or for leisure, rail journeys, almost always, meant midnight pranks, munching on junk food and sitting alone by the window allowing speeding wind to play with your flowing hair. Moreover, meeting new people and knowing mundane and profound details of their life was the best part of Indian Rail Journeys.
Like decades ago, government jobs, especially in the Indian Railways, continue to lure thousands of youngsters. However, job aspirants often fall prey to conmen who cheat them of their money by promising them employment with the Indian Railways. Find out here the right way to apply for a job with the Railways.
Recruitment process
Recruitment for various posts in the Railways is done through the following agencies:
1) Railway recruitment boards (RRBs)
2) Railway recruitment cells (RRCs)
3) Railway protection force (RPF)
EMPLOYEE NEWS CENTER

KEY WORD
Rail News - Public service
(3672)
Railway News - Rail User
(1460)
Rail Development
(1297)
Rail News - Rail Employee
(1105)
Rail News - Public service
(875)
Railway News General
(676)
Rail News - Public service
(647)
Public Grievances
(614)
Rail News - New Train
(476)
Rail news - Public Alert
(346)
Rail News – General
(342)
News - Spl Train
(252)
Rail News - Rail User
(210)
Rail News - General
(153)
World Rail News
(123)
News - Railway Employee
(107)
Office Order
(103)
Rail News - Sports
(103)
DIVISION - MORADABAD
(102)
Rail News - Circulars
(102)
Rail News - Railway Safety
(101)
Rail News - Rail Development
(100)
Rail news - Metro
(97)
Rail News - Security
(91)
Railway News - Rail Tourisum
(91)
Rail News - Tourism
(79)
DIVISION - JABALPUR
(71)
Rail News - User
(68)
DIVISION - HUBLI
(66)
Railway News - Metro
(64)
DIVISION - ALLAHABAD
(63)
Northern Railway
(62)
Railway
(61)
Rail News - New Rail Line
(56)
Railway Board
(53)
Pawan Kumar Bansal
(52)
Rail News - Job - Career
(51)
Rail News - Special Train
(51)
Pawan Bansal
(50)
Railway News - Delhi Metro
(50)
Rail news - Employment Notification
(49)
Rail News - Rail Budget
(45)
Rail news - World Rail
(37)
News - Loco Pilot
(34)
DIVISION - Delhi
(31)
Employee News -Govt. Employee
(28)
Rail News - Business
(27)
DIVISION - BHOPAL
(23)
Rail News - Security
(23)
Rail News - 7th Pay Commission
(23)
News- Railway Exam Result
(22)
Employee News - Central Govt.
(21)
Employee News - Railway
(19)
major railway stations
(18)
News - Job - Career
(17)
Rail News - Rules
(17)
Western Railway
(16)
Delhi Metro Rail Corporation
(14)
Rail News - Sports
(13)
Rail Radar
(13)
India's Railway Board
(12)
Japan International Cooperation Agency
(12)
News - Rail Road
(12)
Rail News - China
(12)
Rail budget
(12)
Accidents
(11)
Govt. Employee - General
(11)
Railway budget
(11)
News - Railway Rule
(10)
Railway Recruitment
(10)
TATKAL TICKET
(10)
Employee News
(9)
DIVISION - Ambala
(8)
Employee News - Govt. Employee
(8)
Employee News - General
(7)
DMRC
(6)
Employee News -Govt. Employee
(6)
Employment News
(6)
NFIR
(6)
Govt. Employee - General
(5)
News- Railway Exam
(4)
AISMA
(3)
DIVISION - RAIPUR
(3)
Government Railway Police
(3)
Tatkal bookings
(3)
DIVISION - CENTRAL RAILWAY
(1)
DIVISION - JODHPUR
(1)
DIVISION - MADURAI
(1)
DIVISION - VIJAYWADA
(1)
Rail Budget 2012-13
(1)